Monday, August 07, 2006
A Day Late ...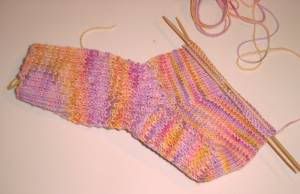 ... and a few inches short. However, I took the sock to the Lucky Laundromat for some serious sock knitting yesterday while my clothes spun their way to cleanliness. All that's left is the toe to do and then it's on to Sock #2! Let us hope SSS doesn't set in ...
Comments:
Oh! Those colors are so fun! I love all these sock colors!! Name? Address? Private home access info?? (just kidding .. I'm really not going to nab anyone's socks... but you can give me the info just in case) :)
Fun color and fun socks! They are very neat.
Better watch out for Sprite - she likes those socks... ;)
Post a Comment
<< Home